Me-made Christmas gifts for my little brother (left) and my twin brother (right).


We got our first Nintendo console in 1997. It was a N64, and it was glorious! We had just learned to ride our bikes, and as an extra encouragement, we each got to name ourselves a price. My brother chose the Super Mario 64 game for N64 and I chose
these
for PC.
The PC games didn't last long (my parents wouldn't let me get refills for the printable fabrics), but the love for Nintendo still lives on. Many games followed, but no game was more loved by my brother than Yoshi Story.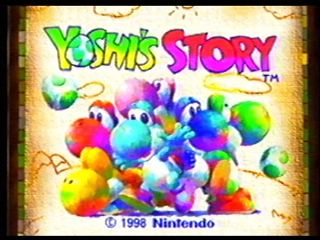 Yoshi has been his favorite Nintendo character ever since. So when I saw
this Giant Yoshi Plush pattern and tutorial on Instructables
, I knew I had to make it. It was meant to be. However, the finished Yoshi is well over a meter tall. I didn't want to commit to making such a large toy without consulting my brother first, so I scaled the large pattern down to app. 45-50% by printing 4 pattern pages on each A4 page. My finished yoshi is app. 45 cm tall.
Crappy camera picture from cutting of the green fleece.

The fabric is all from Stof2000, a danish fabric chain store. I got 50 cm of green fleece, 25 cm of red, orange and white fleece and 50 cm of yellow felt (they didn't have yellow fleece). I used ALL of the green and white, but still have a lot of orange, red and yellow left over. The knit fabric and wool felt for eyes, nose and stuffing guards were all pulled from my remnants.
Front view. Metric cutting mat for scale.
I added little bags of rice in the hair, saddle and tail to weight him backwards and down. I should have added more to the hair or back head, as he tilts forward a bit due to his nose.

I sewed most of it by machine, but the sleeve-to-body and head-to-body seams were sewed by hand as they didn't fit into the machine. The eyes and nose were sewed on by hand.
I am really happy to report that my twin brother absolutely loves it! I haven't seen him so happy or surprised for a really long time, and he has jokingly requested the whole range of Yoshis plus a full size green one.
Hand applique on pillow in progress.
For my younger (and equally as nintendo-obsessed) brother, I made a Zelda shield pillow (see picture at the top of this post). He had written "Zelda merchandise" on his wishlist, so I tried to recreate
this
pillow, but in the Ocarina of Time design. The inside pillow case is made from unbleached muslin and the pillow cover is made from wool remnants. The blue is from a medieval heraldic surcotte, the red is from my boyfriends medieval tunic, the grey is from a second-hand skirt refashion gone wrong and the yellow is from an unused, disposable cleaning cloth.
Hand drawing the pattern and motifs.
I drew the shield shape and design by hand on pattern vlies (swedish tracing paper?) and used iron-on interfacing on the shield rim and motifs. I did all the appliqué by hand with small, even fell stitches.
The cover closes in the back with a wide lapped zipper. The pillow is stuffed with the remaining half Ikea pillow left over from the Yoshi.
My younger brother was happily surprised with his pillow and actually slept on it on Christmas eve. He has *also* requested more, as he would like to have all 3 shield designs from OoT. My twin brother has also requested a pillow, but he first wants it AFTER his red yoshi.
It is tough to have brothers sometimes ;)